Float Tank Reviews
Check out these social media posts/blogs written by our clients!
" - It took me a while to switch off, I think!
- You lose all sense of time
- All I could hear or focus on was my heart beat
- My skin felt so, so soft from salt
- It almost feels as if you have no body, you are just a mind
- You turn the light off once you are inside - complete sensory deprivation
- I feel so amazing now, a real sense of peace
- You really do completely float!
- Once I was totally calm & still I couldn't tell I was in water
- I don't think I fell asleep but I have come out feeling like I've had 10 hours sleep!! "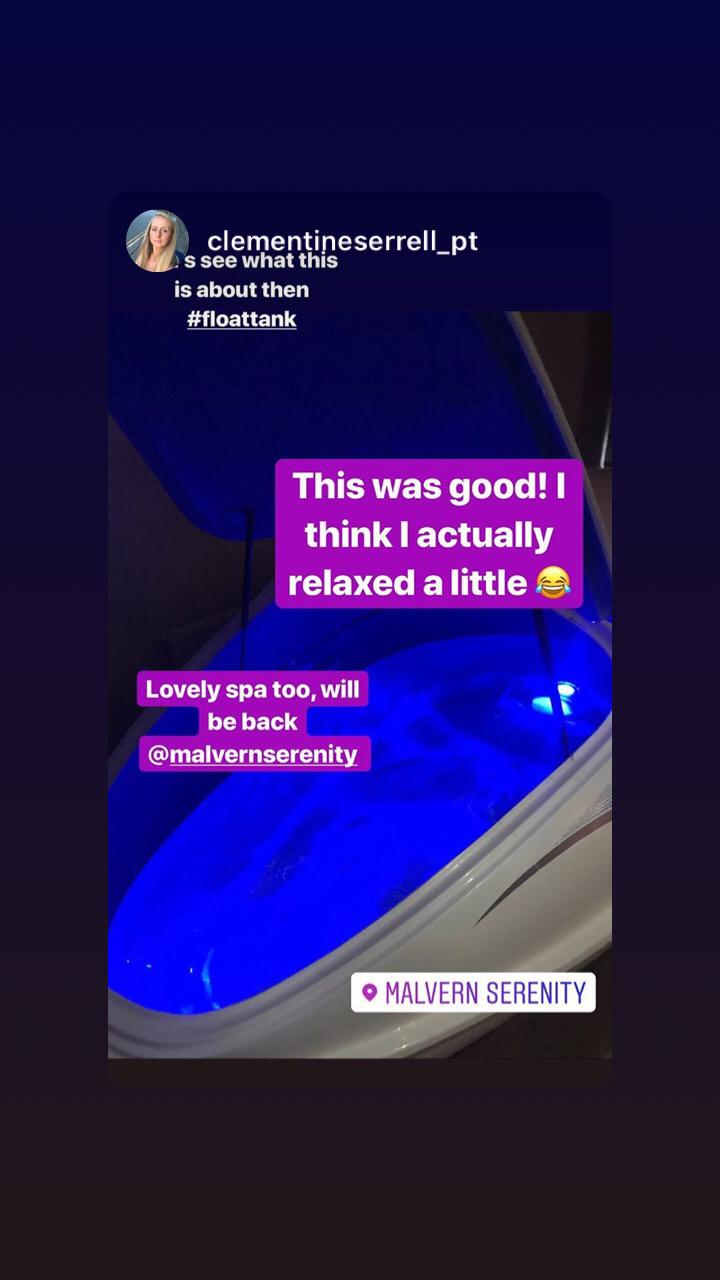 " This was good! I think I actually relaxed a little!
Lovely spa too, will be back!"
I felt awesome, and slept like a log!
Emma May
"A busy mind; a blessing, or a curse?
I have yet to meet a business owner who doesn't have a busy mind! I, like most people struggle to switch off. Those close to me know I can't sit still and my mind is always thinking of a million things.
I have tried many things over the years to quieten my mind in a bid to find some 'stillness'. My latest being the floatation tank.
I had an hour in the float tank at Malvern Serenity, who are one of my clients, yesterday. An hour in your own head!?! A scary place to be I hear your say!?
I opted for some background relaxation music and once in the tank argued in my own head for at least 10 minutes trying to subdue all of the thoughts jumping in to my head.
By 30minutes in, I had written several posts in my head, had at least 10 ideas for myself and clients, delved into some sales funnels and joined up some dots on my business plan…
At first I was cross at myself for having these thoughts and not 'switching off'… then, I realised that for me I have been approaching this whole 'quiet mind' thing all wrong!
All of those solutions and thoughts were areas I had struggled to do this week, because my mind had been so busy. So by letting my senses shut off, I could come up with solutions and creative literature in no time. Surely that in itself is a form of quietening a busy mind?
My last half an hour became a journey of philosophical debate with myself over how all these years I have been trying to master 'shutting my mind off' whereas what I should have been doing, is making time for my brain to get creative and freely 'think and discover'.
I also woke myself up snoring at one point so I must have fallen asleep some time around the 40minute mark whilst unravelling the thoughts in this post in my mind!
In summary, I felt awesome, slept like a log last night, and finally had time to 'get creative and problem solve'.
Find your version of a quiet mind, and remember, it is that busy mind that make you the business owner that you are today, so embrace your ideas and ways of thinking.
Now, my next challenge… find a waterproof dictaphone that will withstand the salt…"
'Floatation Therapy RULES'
Michael Kalisperas
Michael loved his Float therapy session so much, he went LIVE about it! Check out his video here: